Welcome to the year-end edition of the Weekly Illumination, a JTM newsletter offering a quick look at the week in journalism with a focus on what's working in today's news ecology. I took a couple weeks off for the holiday, but we're now back and will be sharing more stories about innovation and the evolution of the news and information ecology in the year ahead.
In this week's Illumination we'll look at the unanswered questions swirling around the death of a 17-year-old Reuters photographer, explore new tools to help tell stories and highlight some of the best year-end wrap-ups on what's happened in journalism over the past year and what to expect in the year ahead.
Reuters under fire after death of young photographer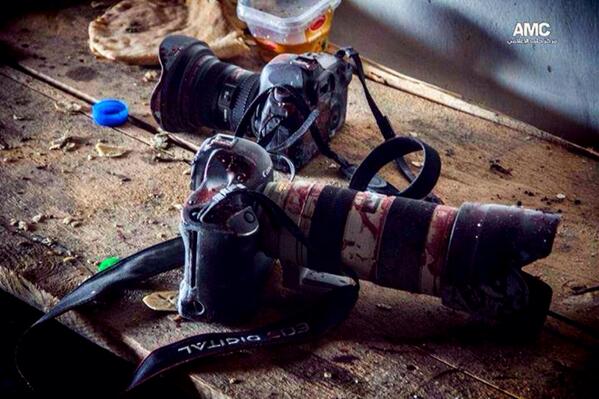 Although his age remains in dispute, Molhem Barakat may have been as young as 17-years-old when he was shot dead while covering the ongoing conflict in his country of Syria last week. Molhem was killed on December 20 while covering a battle over a hospital in Aleppo, Syria.
Corey Pein, an American investigative reporter based out of the U.K., has been  gathering information about Barakat's death on an evolving post on his blog.
Apparently, Molhem started photographing the violence on his own cheap camera. Reuters eventually provided the teen with a better camera, but he reportedly continued shooting without the benefit of any protective gear.
He was paid $100 for uploading a daily set of 10 photographs and given a $50 or $100 bonus whenever his photos were selected as a Picture of the Day on the New York Times Lens Blog, according to a freelancer who met Molhem on an assignment earlier this year.
"If Molhem hadn't been taking pictures, he may well have taken up arms. The Reuters team in Syria might have thought they were doing him a favor — and in some ways, I'm sure that they were," said Pein in his blog. "Legally speaking, the agency had a responsibility to ensure that he was prepared for the work it was actively encouraging him to pursue."
It's unlikely that Molhem is the only young photographer working in a dangerous conflict zone without adequate protections for a major news organization, but his death has ignited questions over whether the agency's existing policies are being followed and whether or not they are sufficient.
Looking back on 2013 and forward toward the new year
As 2013 winds down and the news along with it, many publications turn to highlighting work from the previous year and predictions toward the future.
At PBS Mediashift, Melanie Stone has profiled 5 exemplary college journalism projects from 2013 and Nieman Lab has identified their 25 most popular stories of the year.
Meanwhile, after Politico somehow managed to compile a list of 10 journalists to watch in 2014 that lacked any diversity whatsoever. NPR's Code Switch responded with their own list of journalists, comprised of people of color, in an effort to right Politico's failure.
Journalism.co.uk honored the end of 2013 by compiling a list of ways that journalists can prepare for the new year. And the Future Journalism Project has a short list of online image collections that are available for free.
New News Tools
Editorially is a new tool for collaborative writing that could change the way reporters work with other team members or their editors. Angela Washeck interviewed Mandy Brown, the founder and CEO of Editorially, for 10,000 words to find out how this new tool came about.
Another exciting new tool is StoryMapJS, which is a new project developed by the Knight Lab "to help you connect the places of your story into a media-rich narrative." While StoryMap has technically been available for a couple months, it previously required some coding that would leave all but the most tech-centric reporter feeling a bit squeamish. Now StoryMapJS is simple enough that anyone can use it without knowing how to program.
Odds and ends & odd ends
Job(s) of the week
xojane.com, a female-oriented publication is hiring a managing editor.
WHDH-TV in Boston is seeking an executive producer of special projects.
Inside Edition is hiring an investigative producer.
The Honolulu City Beat is looking for an investigative editor.
JTM is looking for freelancers to write about successful journalism initiatives and is paying up to $250 per story.
***
The Illumination is a curated collection of stories about journalism innovation, notable job opportunities, grants and updates about Journalism that Matters. It is distributed to e-mail subscribers, through the JTM Google Group, and posted to the Illuminations blog.