Mission Statement
Journalism That Matters fosters inclusive civic communications so that people, communities and democracy thrive.
---
What We Do
JTM is a nonprofit that convenes transformative conversations to ignite collaboration, innovation, and action. We believe journalism matters most when it is of, by, and for the people.
Since 2001, the organization has hosted unconferences that have inspired hundreds of varied media initiatives around the nation. JTM has a proven track record catalyzing disruptive innovation and fostering new collaborations between diverse stakeholders.
Using interactive conversation practices, including Open Space Technology, World Café, Appreciative Inquiry, and Circle Process, JTM events engage the potentials and creativity of the people who show up, inspiring breakthrough thinking and ongoing collaboration that effects positive change.
After 11 years as an informal network, Journalism That Matters received 501(c)(3) status in 2012. Almost 1,500 alumni have participated in JTM-sponsored events that have inspired new ideas, projects, partnerships, and a variety of journalistic ventures such as the Seattle Globalist (formerly the Common Language Project), the Living Textbook Project, and the TAO of Journalism.
Now, thanks to a grant from the Mott Foundation, JTM is embarking on a new project to spotlight examples of what's working in the changing media landscape and to highlight emerging principles and practices of journalism.  The intent of this "Illuminations Project" is to amplify experimentation and collaboration for a 21st century journalism ecosystem that serves the public good.
---
Who We Serve
JTM serves those who are shaping the evolving news and information ecosystem including emerging and traditional journalists, people and their communities, and others who contribute to civic discourse, such as educators, information technologists and librarians.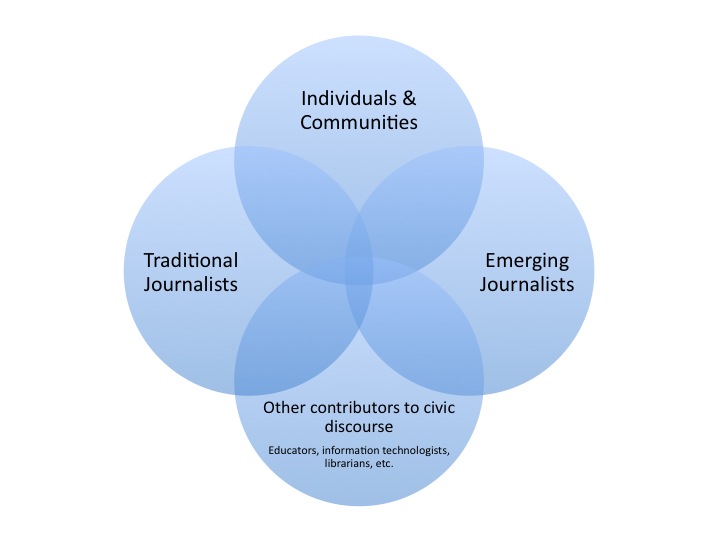 As the forms through which people receive news and information change, underlying values of newsworthy communication evolve, drawing from a tradition of accuracy, independence, fairness, transparency, professional responsibility,[1] while adapting to a media world of many-to-many interactions, databases, linking, and increasingly rapid publishing.
---
How We Serve
At the heart of our work are three activities:
Bringing together a wide array of people so that journalism engages communities and communities engage in journalism.
Using breakthrough engagement that fosters collaboration, innovation, and confidence to address complex challenges.
Making visible the emerging principles of journalism by, for and of the people by sharing stories of the evolving news and information ecosystem.