Since 2001, Journalism That Matters has convened 20+ conversations among the diverse and evolving members of the news and information ecosystem.

Journalism That Matters believes that when communities and news organizations create meaningful connections, it leads to:
More relevant stories told by both professionals and community members
Greater involvement in civic life by an increasingly diverse mix of the community
Innovative solutions to community challenges, inspired by stories that highlight possible solutions and a more engaged public
Mutual trust and respect between institutions and community members
Greater public support for news gathering and quality journalism
Stronger economic well-being for the community and for news organizations
Through our initiatives we are involved with news organizations that are engaging their communities. We work across these organizations to extend the impact of their work by developing the means to:
Connect news organizations in a learning community for journalism innovation and engagement
Chronicle what we and participating organizations are learning
Share learning and resources widely
Build capacity to extend engagement work to news organizations of all types and sizes. 
Following our October 2015 convening, Experience Engagement, we created a map of how we see the evolving relationship between community and journalism: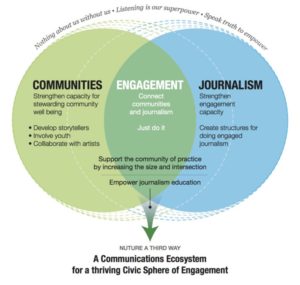 To get involved, join JTM or contact us.