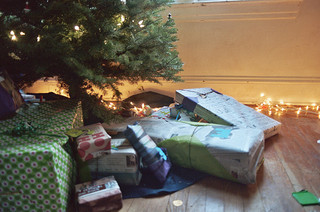 It's hard to believe that 2013 is almost over. This year has been an exciting one for Journalism that Matters, and I just wanted to take a moment to share with you all of the work we've been doing.
In April, JTM hosted its 19th gathering at the University of Denver's Estlow Center. Reporters, students, educators and others attended Journalism is Dead, Long Live Journalism, which was held in conjunction with the semi-annual National Conference For Media Reform.
Shortly after that gathering, JTM hired Josh Wolf to lead the Illumination's Project and serve as Editor-at-large. Since taking the position, Wolf has published a weekly column about what's working in journalism and also now curates our e-mail newsletter highlighting news from the world of journalism innovation.
Each edition of the newsletter is packed with great links to interesting stories and opportunities for jobs and grants. Please consider subscribing to the newsletter or joining our Google Group where you can also participate in JTM discussions as well.
In 2014 JTM plans to expand on the work we've already started, but we'll need your help.
Journalism that Matters has partnered with the American Society of News Editors (ASNE) to launch a new initiative to help its member organizations engage diverse communities that they have struggled to reach in the past. At the same time we will be developing a similar project to benefit those outside of ASNE.
Thanks to our ongoing support from the Mott Foundation, we plan to pioneer a learning experience that supports participating sites with hands-on engagement among community and a mix of media partners. This collaborative venture will do some capacity building for engaging diverse community and provide ongoing support among a network of news organizations who are connecting with their community. The goal: to increase the know-how and effectiveness of communities in meeting their news and information needs.
In the next few months Journalism that Matters will also be developing new web forums, hiring additional correspondents to report on what's working in journalism. And we are now developing our first online unconference.
This the first year that we've operated as a 501(c)3 organization and not only has our new-found status allowed us to secure the Mott grant that is underwriting the Illuminations Project, but it also allows you to make a tax-deductible donation to us.
For every 35 people who are able to make a $50 contribution to Journalism that Matters we will be able to hire one additional correspondent to share a story each month about what's working in their community.
Can you help us with a one-time tax-deductible gift before the end of the 2013 calendar year?
We understand if you can't afford to make a donation at this time, but please help our mission by sharing our links on your social networks.
Happy Holidays!