Given the pace of change today, we need journalism that helps us to navigate through uncertainty.
If the purpose of journalism is to support us in making sense of our world, providing the news and information we need to be free and self-governing, what does that tell us about stories that help us find our way in times of change? It calls for an expanded purpose: journalism that not only informs, but also engages, inspires, and activates us to be free and self-governing.
Such journalism involves: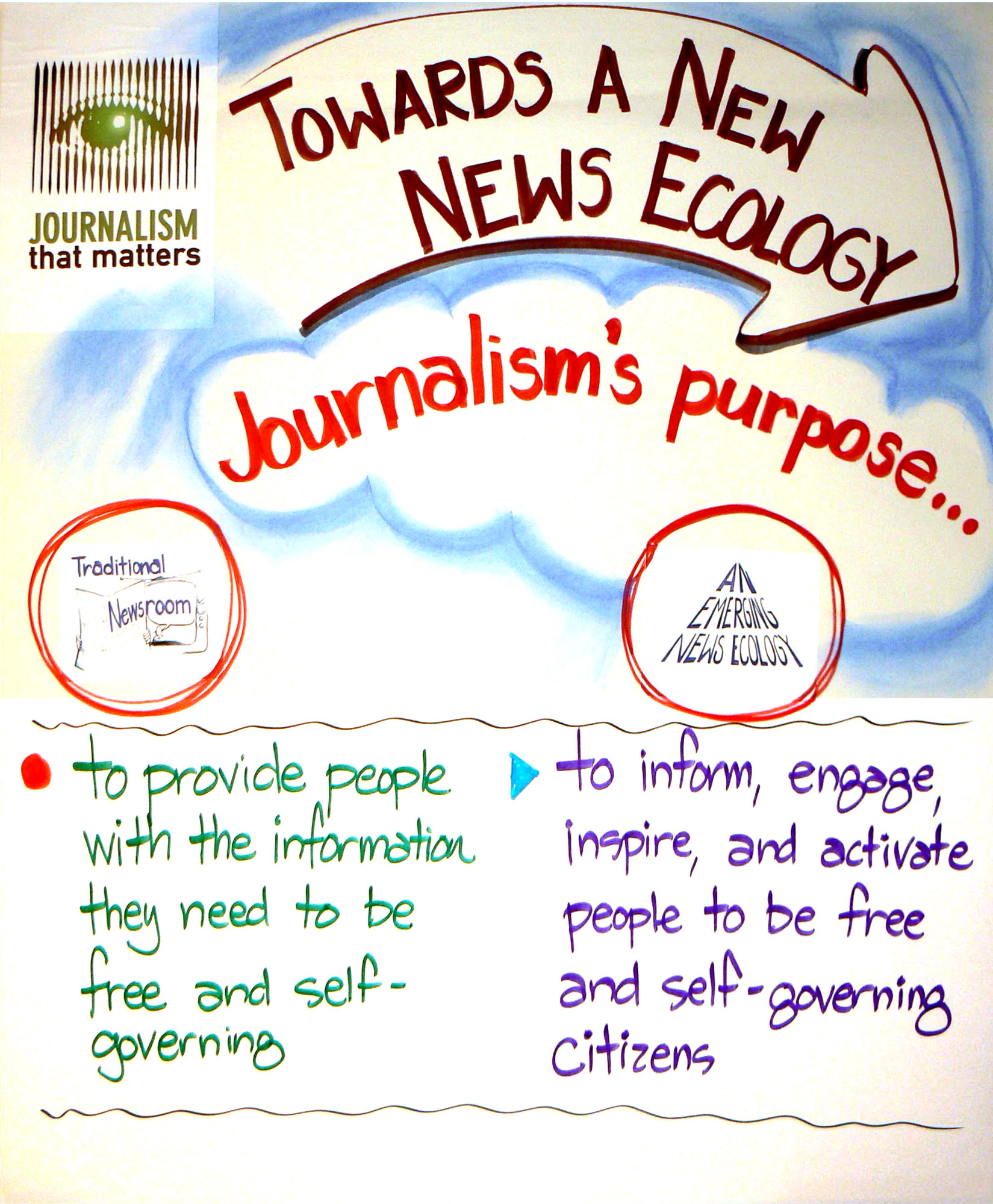 My perspective comes from thirteen years of working with journalists through Journalism That Matters.  It is also influenced by consulting to organizations facing upheaval and as an author of two books on system change. I have seen that the stories we tell matter. They shape our actions.
As cultural storytellers, journalists influence our collective story.  In his groundbreaking work, The Image of the Future, social scientist Fred Polak tells us that cultures without a positive image of their future die within a generation.  Think about that.  Our future depends on positive images.  So cultural narratives – the stories we collectively tell ourselves – are more critical than most of us realize.
Likely unconsciously, most traditional media have approached their mission by telling stories that tend to keep our institutions stable.  They treat the functioning of our educational systems, political systems, healthcare systems, governance systems and other basic systems of society as a given.
When our institutions cease to serve us well, it shows up in the complexity of the issues we face and conflicts over how best to handle them. At such times, journalism that helps us to navigate through uncertainty can inspire and equip us — the public — to engage with complex challenges, taking charge of the well being of our communities and our democracies.
Such a focus raises some essential questions, like: Who decides what is newsworthy? And how?  And even: who decides whether our systems are meeting the needs of the people they are intended to serve?
In that light, consider how much journalistic storytelling uses conflict to make a story compelling. Even if it makes a good story, for many of us, it creates a sense of hopelessness.  Think about how differently you respond to a story about our education system failing and one about education innovations that are making a difference. One story leaves most of us in despair, believing there's nothing we can do. The other can spark action, motivating us to get involved.
Inspiring and engaging stories don't need to ignore conflict. They succeed by contextualizing them via big picture aspirations that provide positive images that inspire action.
Over the next few weeks, I'll elaborate on these ideas in posts on an expanded purpose of journalism, and three principles: possibility, engagement, and diversity. The series ends with some suggestions on what you can do to support a re-vitalized, economically viable journalism that meets the needs of communities and democracies. As a companion piece, I'll offer a draft functional map of the news and information ecosystem.
Got something to contribute?
A story? A question? A resource? In the spirit of JTM's aspiration to be a go-to place for connecting people involved with the emerging news and information ecosystem, I invite you to join in. You can:
Comment on this post (below)
=======
Read the other posts in this series:
What do we need from Journalism? (this post)
Journalism for Navigating Uncertainty