How can you contribute to a healthy journalism ecosystem?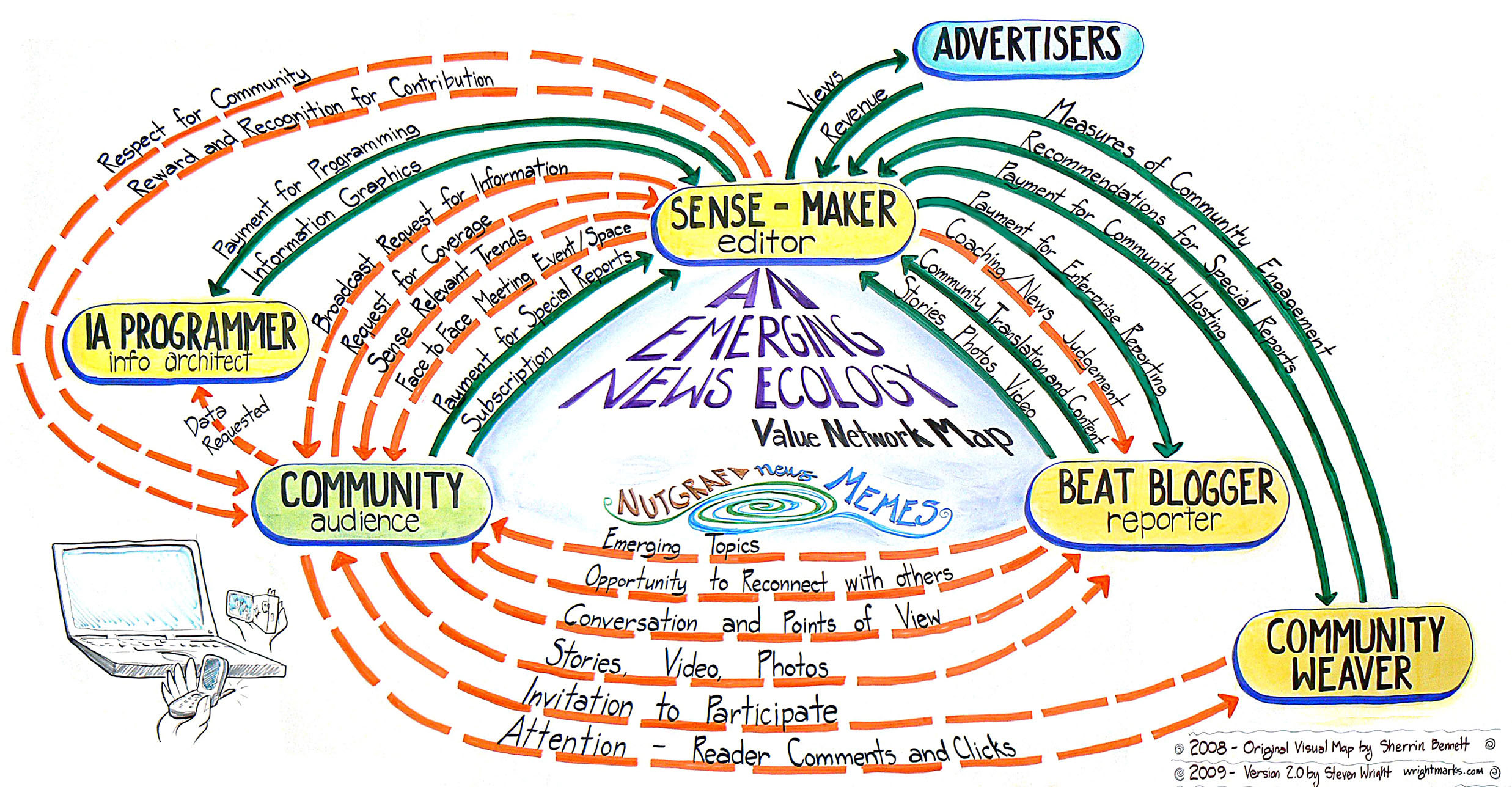 Picture a news and information ecosystem that not only informs, but also engages, inspires, and activates.  Imagine journalism that helps us navigate through uncertainty, contextualizing conflict and struggle within aspirations and hope.
Envision telling stories of possibility, highlighting diverse voices, using diverse forms, and engaging with each other around them.
How do we do it?
Journalism is no longer a spectator sport. Whether you are a journalist, an educator, a technologist, or a member of the public, get involved in creating a news and information ecosystem that meets the needs of communities and democracy.
The dominant narrative of how we organize to get stuff done is shifting from hierarchies to networks. No longer just from the top, change happens when people take responsibility for what they love. So join a hub of activity, as many are already doing.  Or link people and organizations to each other. Journalism That Matters (JTM) aspires to be a learning hub for connecting journalism innovators.  So tell JTM about what you're doing by commenting below and join the conversation.
If you're not sure where to begin, I offer some ideas:
Learn about change.  We live in interesting times.  Disruption is a normal part of the landscape.  The more each of us understands change, the better equipped we are to work with it. Resources abound! My book, Engaging Emergence: Turning Upheaval into Opportunity is one roadmap.
Seek possibilities.  Turn deficit into possibility by asking questions that uncover hopes and aspirations.  Questions like: given what's happening, what's possible now?  Or what's the best possible outcome from this situation?
Many people focus on what they can't do, what the problems are, what isn't possible. When someone says, "The problem is x," ask, "What would it look like if it were working?" If someone says, "I can't do that," ask, "What would you like to do?"
Invite others to join you.  You can have more fun and help each other grow into the habit of asking possibility-oriented questions. Over time it will change the nature and quality of our discourse.
Engage. There's something for everyone in the emerging media landscape. Take a course in media literacy.  Or teach one.
If you are a journalist, remember: engagement is essential for journalism to be relevant and trusted in the digital world. Take the TAO of journalism pledge to be Transparent, Accountable, and Open. Check out resources on engagement at J-Lab, including the 2012 Report on Engaging Audiences.  The Poynter Institute has a variety of articles about engagement.  Or take a look at the ideas in my earlier post on engagement.
If you are not a journalist and you have a story to tell, do so.  Whether text, audio, video, or other media, provide content for a news outlet, your own blog, or social media.  If writing isn't for you, find media that cover places and issues that matter to you and jump in. Point family, friends, and groups that you are part of to stories that you think make a difference.
Use social media, like Twitter, Instagram, Tumblr, Pinterest and Facebook, to discuss stories with friends and strangers. Or to share what you learn about using social media.  Comment on stories that move you. Organize around them.  If fact, learn about hosting conversations. The National Coalition for Dialogue and Deliberation is a great resource for practices and people.
In other words, whatever your roles in the ecosystem, make media, share it, and use it.
Invite diversity.  We spend so much of our time with people like ourselves!  Whenever you engage with media, notice who else needs to be involved and speak up. Reach out. Support media makers who tell stories that incorporate diverse perspectives. And remember, if you wish to engage with people from a different age, race, culture, etc., go to them. Be humble. Listen. Learn. They are more likely to join with you if they see that you are interested in a respectful partnership.
Ultimately, these actions are not just about the quality of our news and information. They are about cultivating societies that are compassionate, creative, and wise. Able to deal with whatever complexities come our way. Each of us has a role to play. So step in.
***********
Got something to contribute?
A tip? An article? A comment? Journalism That Matters is gathering resources. You can add by:
Commenting on this post (below)
Unless you explicitly request otherwise, I will post comments received from all media in the comment space below.
=======
Read the other posts in this series:
Journalism for Navigating Uncertainty
Changing the News & Information Ecosystem: What can you do? (this post)