While many start-ups spend years burning through investment capital trying to successfully monetize their product and deliver profitability, Seattle-based GeekWire is in the black after only two years.

John Cook and Todd Bishop, two veteran reporters who both covered tech news for the business section of the Seattle Post-Intelligencer, launched GeekWire in March of 2011 after attempts to develop similar ventures within existing newspaper organizations faltered.
"Todd and I were two longtime newspaper reporters but in addition to that we were early online reporters. We very much believed in the power of that model versus traditional print," said Cook. "The Seattle tech community weren't picking up a physical newspaper anymore, they were early adopters. … I couldn't do my job as a newspaper reporter and be a reporter for a printed newspaper."
Efforts to develop a new online property within the Seattle P-I, proved unsuccessful for a number of reasons, including union contracts and a Joint-Operating-Agreement with The Seattle Times, said Cook. The two left the P-I and joined the Puget Sound Business Journal, where they founded TechFlash. That venture had similar problems integrating itself within a legacy media structure and Cook and Bishop left to build something on their own.
"At the end of the day we realized what we were proposing was not going to happen," said Cook. "We couldn't be entrepreneurs the way we wanted to be entrepreneurs."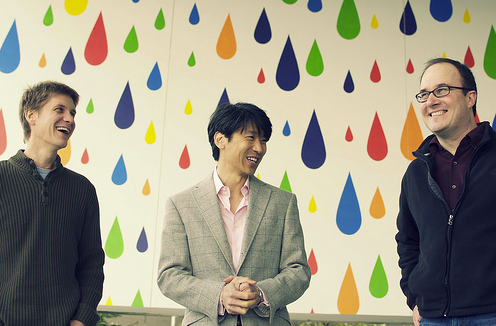 With an angel investment from Jonathan Sposato, an entrepreneur whose startup Picnik was acquired by Google in 2010, the three partners began building what they wanted without interference from newspaper executives.
GeekWire's lean team of five full-time workers and a small handful of freelancers manages to do more — a lot more — than simply producing an active news site churning out dozens of article each day. In addition to its news wire, the company just launched GeekWork, a jobs board built as a matchmaking service, hosts numerous events drawing thousands of attendees each year, and also offers a premium membership that starts at $250.
"It's not necessarily just enough to support the business just through the editorial content," said Cook. "You have to have five or six mini business connected to your editorial business."
This formula of combining meaningful journalism — including breaking news and deep analysis — with several different revenue streams seems to be working for GeekWire. The company just had its first profitable quarter, and GeekWire continues to be a central player in the Pacific Northwest tech community. With most media outlets looking at where to cut, GeekWire is exploring how they'd like to use their new-found profit to grow. 
"We're in a really interesting position where we've made it through the first two years," said Cook. "We're beyond the get up and go startup stage. We're at the point where we've got a strong community and a growing audience and we're at a point where we're starting to really think deeply about where we turn and where we invest."
But despite the appearance of overnight success, Cook is quick to point out the work it took get there.
"It's taken a long time for us," said Cook. "Just to be good beat reporters is one thing, let alone trying to become good beat reporters and trying to turn that into a business."