Submitted by Steve Hanson on Thu, 03/19/2009 – 6:22pm
Some interesting observations from Joel Kramer at MinnPost and the Nieman Labs.
Joel Kramer: Lessons I've learned after a year running MinnPost –
[As we mentioned earlier, the next issue of Nieman Reports is almost ready to be unveiled. On Monday, we gave you a sneak peak at one of its articles, by St. Louis Beacon editor Margaret Wolf Freivogel.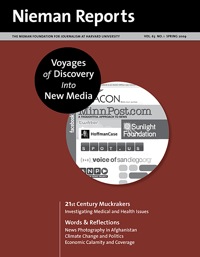 We've got one more story to share before the rest of the issue goes online at Nieman Reports' web site. This one comes from one of the brightest stars in the news-startup firmament: Joel Kramer, former editor and publisher of the Star Tribune in Minneapolis, and now founder of MinnPost. Here, Joel reflects on what he's learned in MinnPost's first year-plus. —Ed.]
A lot of pixels are being spilled these days reflecting on the future of newspapers, news, journalists, and journalism. I spent my career in newspapers, first as a journalist and later as a publisher, and I left when the business was financially near its peak. With the for-profit model now shriveling, I've spent the past 16 months trying to build one example of what might be coming next—a not-for-profit enterprise providing high-quality regional journalism on the web.
Here are some reflections from that battlefield.

MinnPost is a certain kind of nonprofit journalism enterprise — one that aims to eventually break even on operating revenues, such as advertising, sponsorship, membership and perhaps other sources such as syndication.
This is different from a pure philanthropic endeavor, like ProPublica, which (at least in its current plan) depends for its success on the continuing generosity of foundations or very large individual donors.