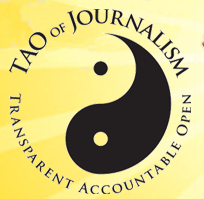 The TAO of Journalism, brain child of Journalism That Matters alumni John Hamer, President of the Washington News Council, has just reached a new constituency: high school students.
The TAO is a promise to your audience that you will be Transparent about who you are, Accountable for your mistakes, and Open to other points of view.
A recent post, Students nationwide sign up for TAO of Journalism program by Kathy Schrier, director of the Washington Journalism Education Association (WJEA) and on staff at the Washington News Council tells the story.
An excerpt:
Student journalists from across the U.S. took the TAO of Journalism Pledge during annual Scholastic Journalism Week, Feb. 19-25, promising to be Transparent, Accountable and Open (TAO) in their work as journalists. Student journalism groups are invited to take the TAO Pledge at any time, but Feb. 22 was set aside as National TAO of Journalism Pledge Day.