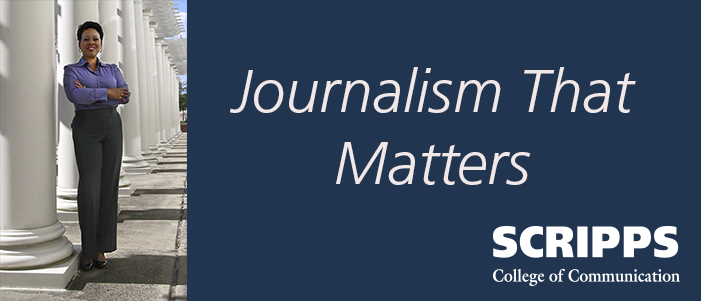 ATHENS, Ohio (Oct. 12, 2015)—The Journalism That Matters (JTM) board elected Dr. Michelle Ferrier, associate dean for innovation, research/creative activity and graduate studies at the Scripps College of Communication at Ohio University, as president of the organization on Oct. 4, replacing Chris Peck, former editor of the Memphis Appeal and outgoing president of ASNE.
Ferrier has been on the board of JTM for more than five years and has developed new programs for JTM such as the Create or Die series of events in Detroit and Greensboro that birthed media entrepreneurship innovations in those areas and across the United States.
Ferrier will lead one of the nation's most visionary organizations that for more than 14 years has led conversations helping professionals to navigate the changing role of journalism. A signature approach of JTM has been to bring diverse stakeholders to the table and use unconference practices to foster breakthrough conversations and action.
A former newspaper columnist and managing editor for online communities, Ferrier has been a pioneer in digital media and content/learning management systems. Ferrier is a researcher and practitioner around online communities, hyperlocal online news, media entrepreneurship and online education. Ferrier is also the principal investigator for The Media Deserts Project that examines the changing media ecosystem using geographic information system technologies.
"Journalism that Matters has provided me with a unique perspective on the changing media ecosystem and the role of journalists, technologists, librarians, city planners and others on creating sustainable, local journalism," said Ferrier. "It has also been a place of restoration for me of the passion and heart of why I got in to journalism," she said.
"Our goal will continue to be to support those who are birthing the new media ecosystem and provide a space for them to imagine better."
Ferrier completed a Ph.D. degree in Texts and Technology at the University of Central Florida. She holds a master's degree in journalism from the University of Memphis and a bachelor's degree in journalism from the University of Maryland.
JTM also brought on two additional board directors: Mike Green and Jackie Hai. Green is co-founder of ScaleUp Partners a consultancy serving local leaders in the innovation economy. Hai is a multimedia artist and educator teaching at Arizona State University in Phoenix.
"JTM got its start when Chris Peck asked what it would take to have a national conversation about the future of journalism," says JTM Executive Director and co-founder, Peggy Holman. "My thanks to Chris for his early and continued support. We wouldn't exist without his vision. Our future is in good hands with Michelle Ferrier. She's been a great contributor and partner since she first got involved. I'm excited to work with Michelle, Mike, and Jackie as we enter a new era of supporting communities and journalists to thrive together."
Cross-posted from https://www.ohio.edu/scrippscollege/newsevents/news-story.cfm?newsItem=A8B6BD3F-5056-A81E-8D088B9AAC0CD480