How can journalists discern what stories are most useful for helping us navigate through turbulent times?
One way to decide is by understanding the roles people play in changing times. I recently described some key roles on the Seapoint Center leadership blog. In brief:
Stabilizers maintain the old systems and structures, for better and worse.
Originators experiment with a range of ideas, from the hair-brained to the brilliant.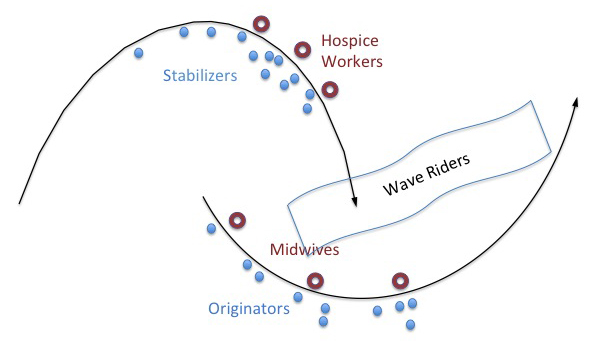 These two roles are immersed in the shifting waves of change, caught up in two primary and conflicting forces: maintaining the old and inventing the new. Three other roles work with these forces:
Hospice workers help us to mourn what is dying.
Midwives help launch innovations.
Wave riders assist us in transitioning between old and new cultural narratives.
Journalists can help us appreciate the contributions of people performing each of these roles. They can honor legacies and illuminate values that still endure, even as they report on the shortcomings of failing institutions .  They can extend the reach of promising innovations, giving us hope for the future and more ability to embrace the unfamiliar.  Through telling these stories, journalists support hospice workers and midwives by bringing their work to a larger, and ideally more diverse audience.
Perhaps most critical, journalists can help us through change by being wave riders themselves, making sense of the shifting narratives of our times through the stories they tell. For example, central to journalism's traditional narrative is "giving voice to the voiceless" and "holding the powerful accountable". While this narrative still informs journalism, through its convenings among the diverse players in the changing news and information ecosystem, JTM has tracked shifts in journalism's narrative.
While by no means definitive, the table below is a snapshot of recent observations informed by conversations among JTM participants. I suspect that we are years from a well-functioning news and information ecosystem. Still, we are seeing glimpses of emerging patterns.
Journalism's narrative…

 

Traditional
Emerging

 

Journalism is about the public good.
Journalism is still about the public good. And now it is entrepreneurial.
News organizations have a large influence on a community's cultural narrative.
Communities take primary responsibility for their cultural narrative. One strategy: embed journalists in the community.
News organizations are institutions that bring credibility.
News organizations are of all shapes and sizes. Some bring credibility. Some bring heart. Collaborations bring us the best of both.
Independence brings stories focused on problems, winners/losers, and scarcity.
Independence within interdependence brings engagement in diverse community that leads to stories focused on possibilities, adaptation, and abundance.

Unless it is an editorial, no advocacy. Period.
Advocacy for a better world (e.g. better education, environment, health care, governance) without attachment to specific solutions.
Stories delivered via print, broadcast, and online.
Stories delivered via print, broadcast, online, social media, hip-hop, video games, and other means.
By putting a name to what is changing, stories give us a chance to consider what endures from the past that is still relevant and what we wish to embrace that wasn't possible before. Naming provides language for conversations about changing perspectives and their implications to the practice of journalism.  Where do you see yourself in these shifts? What do the changes mean for you and your work?
What if journalists characterized changing assumptions for education, healthcare, governance, or other systems they care about? How might that spark conversations about underlying beliefs and assumptions? How could it lead to greater understanding of the tensions among people in the system and in the process, cultivate greater understanding, compassion and creativity in changing times?
What are the stories you can tell that help us navigate through change?
*****
 

Changing Stories in Journalism

For more than a decade, JTM has tracked the narrative of journalism through the conversations it has hosted among diverse groups of people involved with news and information.

Created originally for NewsTools 2008 in Silicon Valley, the two value network maps below highlight shifts in key roles and exchanges in the news and information ecosystem.

The charts of changing views that follow were compiled between 2006 and 2009. They still stimulate rich conversations about the changing story of journalism.