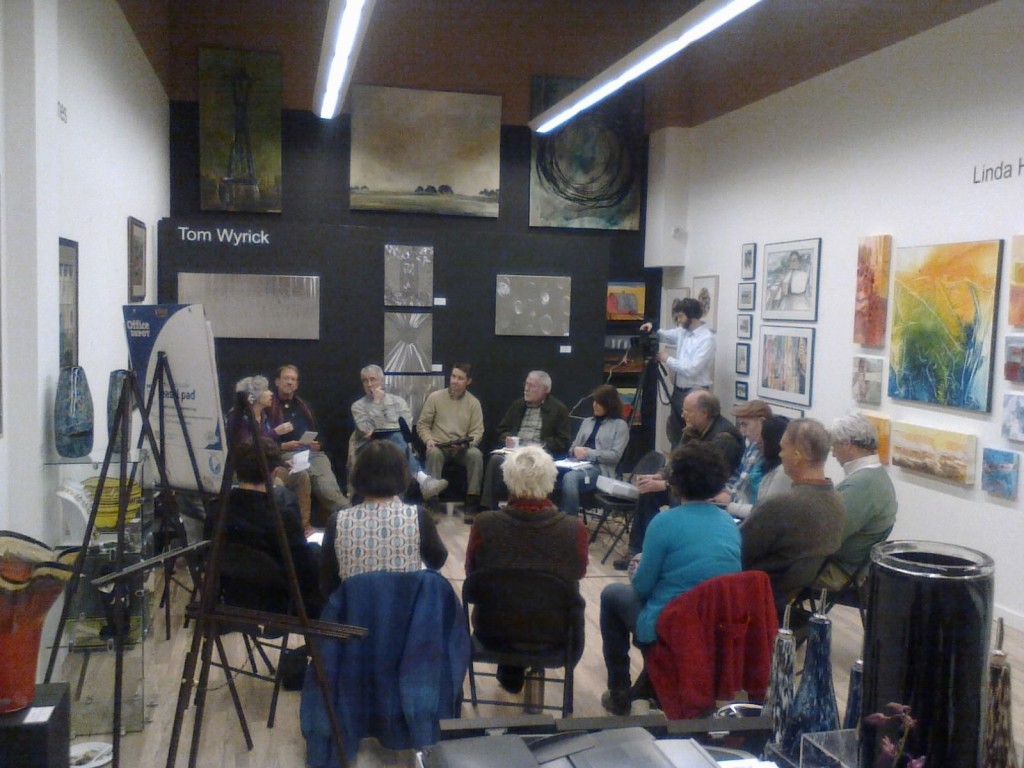 Lisa Skube, a 2010 – 2011 Reynolds Journalism Fellow, and West Seattle native, is conducting a series of small gatherings, bringing together local community news networks, collecting feedback that will inform the creation of an online platform for sharing, discussion and collaboration slated to launch early year 2011. The project, titled the Journalism Accelerator, borrows from the simplistic nature of successful community web based social platforms and aims to facilitate faster, rated information sharing between journalists.
Fifteen people gathered at the Alki Arts Center in West Seattle November 16th for the discussion which covered topics from the shared stake between journalists and their audience, to how they can serve as allies and resources to each other, to understanding journalism content as product. "Those organizations growing their audience tend to be those that are mission oriented," says Skube. "Their content inspires and empowers relationships and a sense of community."
Relational information works best when an organization has determined what the unique impact and benefit their message is having on their community, with a full grasp of what would be lost without that message.
"Experiments that aim to learn something and report clearly what they learned tend to get more traction," says Skube.
Projects which are simply focused on old revenue models which reflect product and audience no longer seem to get very far unless there is a narrative developed – a conversation which can build over time between the organization and its audience.  Without that deeper connection, the modern audience tends to simply take the information, then go somewhere else to talk about it.
Part of Skube's project plan is to examine various journalism websites to see if and how that connection is being built by asking the site creators what values they think they're giving their community and then go out into the community to ask what values community members are receiving from those sites.
"A focus on relational impact is new to journalism," Skube said. "We have to better understand value. How do you know if your content is connecting? It's not just about page views anymore."
Journalism organizations are having to learn new ways to serve and function. User generated content is an incredible opportunity to tap into a community's often hidden needs, as well as a way to empower people in a community to realize they have a voice. Creating a narrative out of site metrics can prove to be a very powerful tool to attract funders.
"Journalism is morphing into something quite different," says Karen Rathe, a journalism teacher and the University of Washington. "They keep saying journalism is dying. But there are 30 applicants for every 20 positions out there." The need for savvy, updated information and education, as well as new tools for serving both journalists and communities – taking their interactions to the next level – has never been greater.
WATCH A VIDEO of the gathering. posted by Lisa Skube at: http://wanewscouncil.org/2010/12/22/what-are-the-information-needs-of-the-puget-sound-region/