Pocantico participants spent an evening and two days exploring ideas on ways for independent journalism to be stronger, more inclusive and to have a deeper engagement with its audiences and communities. Many said they were glad to have been part of a meaningful and thoughtful discussion that took a broad view of the challenges we face while honoring the importance of the journalism being done. With a growing appreciation of possible connections between revenue and inclusion, they saw the potential to have much more influence and impact.
When asked at the close what touched them about the experience, here is a sampling of what they said.
=======================
"I go to a lot of journalism gatherings and this one feels qualitatively different
and it opened up new kinds of conversations. I feel less on the on the brink from
bailing from this whole life and really invigorated. I hope these relationships
and ideas persevere in the coming weeks and months."
Esther Kaplan, Editor, The Investigative Fund, The Nation Institute
 *****
"What touched me most was the passion of the conversation about diversity.
And that's a very important part of my day job, but a kick in the pants
every once in a while about how important it is is a really good thing, so
I feel like I got one. We can always do better."
Richard Tofel, President, ProPublica
 *****
"(The framing of the conference) brings us back to that point we all have.
That love and that passion. Putting that at the forefront was centering for me
and helped me through difficult conversations. I was touched by everyone's efforts
to articulate their personal and professional struggles and being honest about that. I
appreciated everyone's honesty."
Julie Schwietert Collazo, freelance journalist, New York
 *****
"It has been very satisfying and reduced my cynicism about moving forward on this.
I really was on the verge in the last two or three years of getting out of the media
and getting out of everything altogether because I was feeling very disillusioned.
I just felt like the work I was doing was going nowhere. So this has been really
great. Thank you all for being here and for the rich conversations we all had.
I am very touched… And I will stay in!"
Linda Jue, Executive Director/Editor,
G.W. Williams Center for Independent Journalism
 *****
"I found this to be a really invigorating experience, not only because of the
things we talked about, but the people who I met here. I think there is going to
be something coming out of this that is a happening, that is going to be an active
and planned our plan for action. So my mind is officially blown."
Jeff Yang, Columnist, Wall Street Journal online
 ***** 
"It's really fresh to hear how other people are navigating the amazing
work we are all doing at a time when not only is our sector in transition,
but the entire world is in transition – it's an extraordinary moment
to be doing journalism."
Sarah van Gelder, Editor in Chief, YES! Magazine
 *****
"What is important is the ongoing conversation. This is just a signpost in
that process… You don't try, you do. You don't talk, you walk. I think that's
some of the things we're building off this and propels us forward."
Ricardo Sandoval-Palos, President, Board of Directors
Fund for Investigative Journalism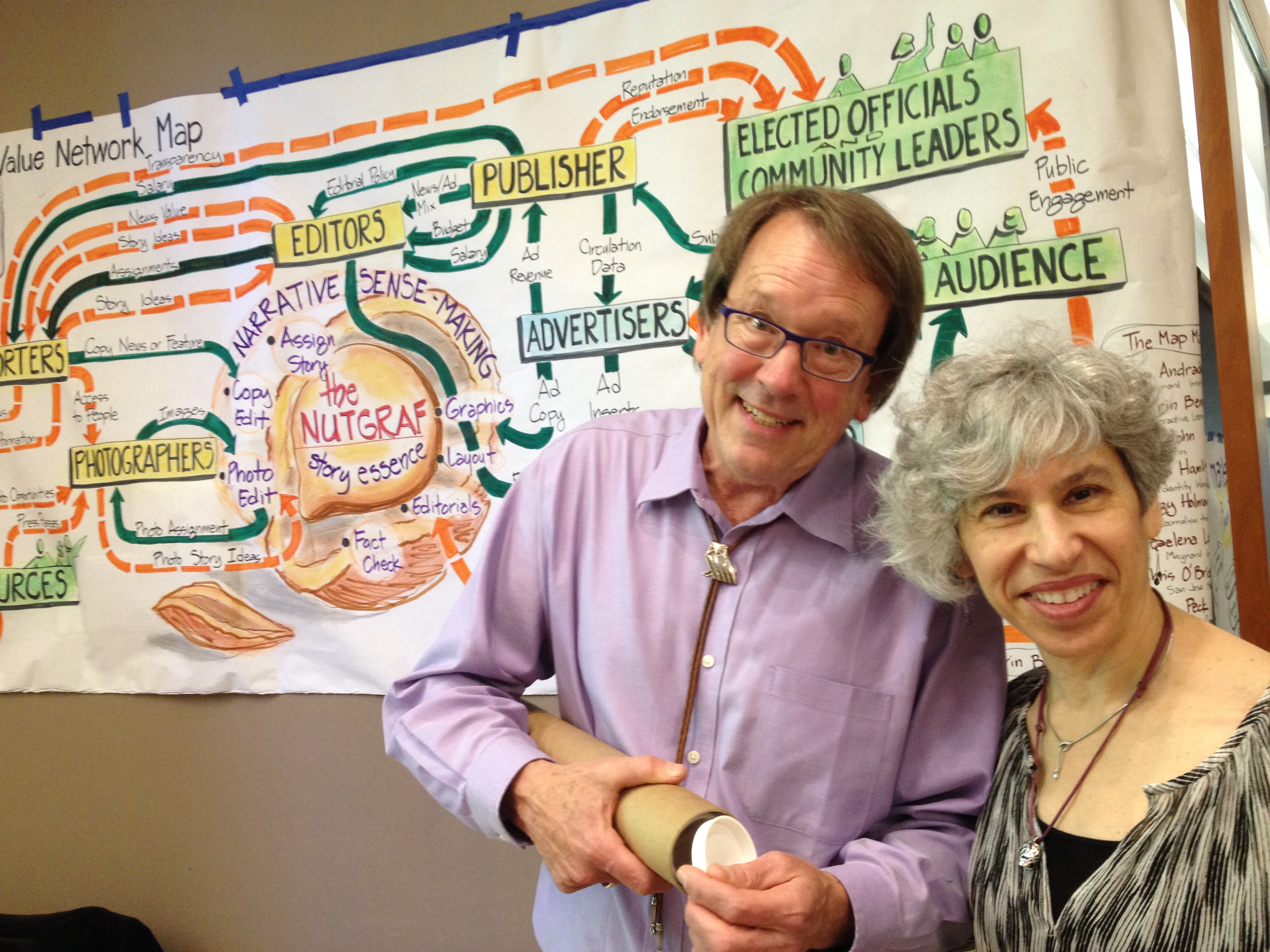 Stephen Silha, cofounder and board member, and Peggy Holman, cofounder and executive director of Journalism That Matters, the conveners and co-facilitators of the gathering Supporting Independent Journalism to Thrive.