An Online News Association Pre-Conference
We called the adventurers who have been reimagining journalism:
We pooled what we have learned to take our work to a new level
to accelerate adoption of
journalism that listens to respond to what we need for a better world.
Disruptive times, as we are living now, have called out the creative spirit in many of us. What works? What principles guide your work? How do we bring together what each of us has learned to amplify our effectiveness – our practices of equity and inclusion, connecting through listening, telling constructive stories that inspire, activate, and generate collaboration on behalf of our diverse communities, democracy and the planet?
In conjunction with the OJA Gather Award in Community-Centered Journalism…
Agora Journalism Center and Journalism That Matters hosted an ONA23 pre-conference bringing together journalists and allies for a participant-driven exchange of information and ideas. In collaboration with: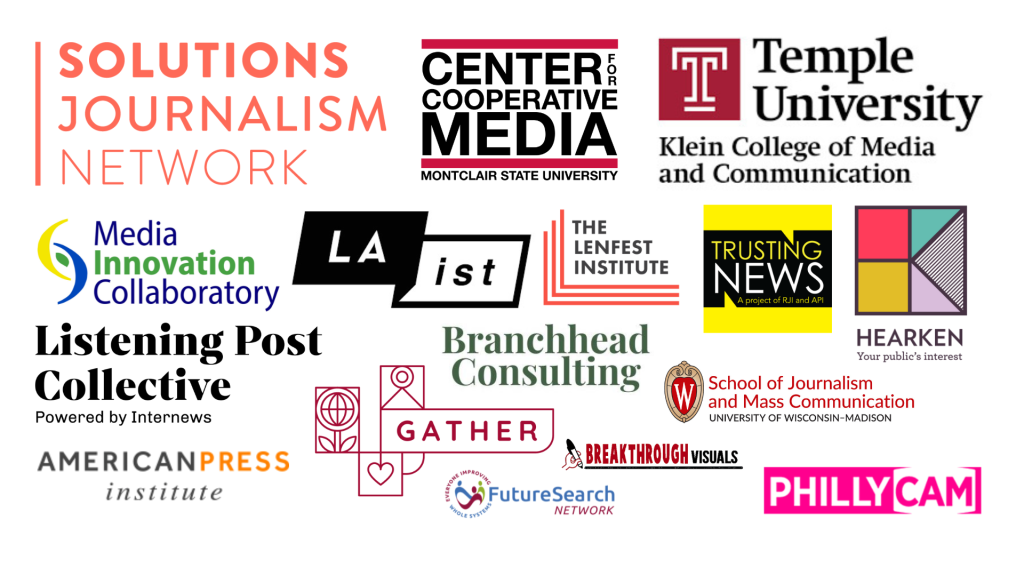 Our Intent
To connect what we have learned, uncover the philosophies and principles that inform our work, and act on synergies that strengthen and accelerate the adoption of practices that rise – with excellence – to the urgency of our times.
Our Approach
Using Journalism That Matters' signature approach to participant-driven conferencing, we set the agenda in real-time. By inviting questions that matter to the people attending, we drew out their wisdom and experience in small group discussions. The resulting networking and community connection inspired innovative projects large and small.
In other words, we set the stage for a lively and productive exchange around challenging questions with a group of peers who care about journalism rising to the needs of our changing world.
Conference Goals
Connect people and streams of work to amplify our collective impact
Celebrate our synergies and identify opportunities for working together
Make visible core principles of this work to equip us to integrate it into journalism norms
Celebrate Journalism That Matters's 22-year legacy and Solutions Journalism Network's 10 year anniversary

Who Came?
Experienced practitioners, researchers, educators, funders, and others who care about journalism's role in civil society. We advanced the conversation from why to how, creating a space for sharing knowledge and concrete approaches to realize the promise of journalism reimagined.
Where many conferences offer needed 101-level engagement conversations, our focus was on those who come with knowledge and experiences to offer one another. Instead of making the case, we imagined possibilities and made plans for a leap in effectiveness and adoption.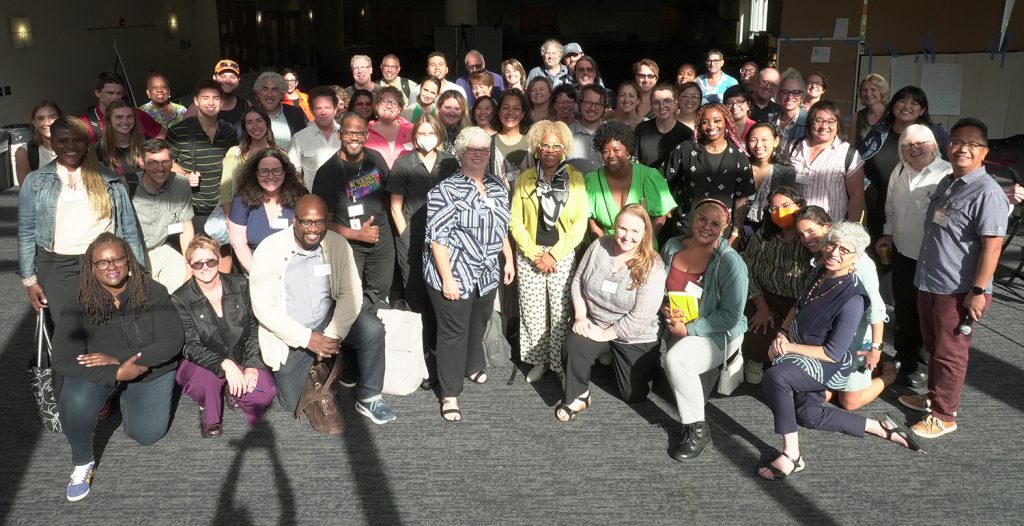 Background
Five years have passed since Elevate Engagement in Portland. This 2017 gathering and the 2015 Experience Engagement convening were co-hosted by the University of Oregon's Agora Journalism Center and Journalism That Matters. The idea of Gather was hatched at the 2015 unconference. The timing is ripe to assess how far the growing communities of practice have come, where we are, and what needs to happen next to fulfill the promise of doing journalism that is centered in and responsive to the public's needs and more inclusive of the public's voices and diversity.
To reflect on how we got here, it's also fitting to recognize and honor early innovator Journalism That Matters. After being at the forefront of transforming journalism's relationship with communities for more than two decades, JTM is transitioning to new leadership. To help tell the story of JTM's impact AND to continue learning from the lessons and processes gleaned throughout the years, Agora and JTM were inspired to team up to co-host this third gathering: Engaging Emergence.
While the practice of engaged journalism has flourished in the years since our first gatherings, so have solutions journalism, collaborative journalism, solidarity journalism, media innovation and entrepreneurship, an increased commitment to equity and inclusion, and other community-centered philosophies in and outside journalism for informing, connecting, and engaging the public. What can we learn from each other to deepen and broaden the work? We saw this third conference as an opportunity to connect with others seeking to do journalism of, by, and for the people.
We held this gathering as a pre-conference to ONA 23 to:
Make it easier for participants to manage the costs and logistics involved in conference travel since they'll already be attending ONA and won't have to make a separate trip;
Integrate the latter part of our gathering into the ONA program to elevate this work within our field and broaden our circle;
Collaborate with local partners in Philadelphia who are leaders in this work and can root the conversation in the community around us.
***
Thanks to our sponsors, The MacArthur Foundation, The John S. and James L. Knight Foundation, and Democracy Fund, for helping to make this gathering accessible. And deep appreciation also goes to the Online News Association and Temple University for their partnership in making space for our convening.