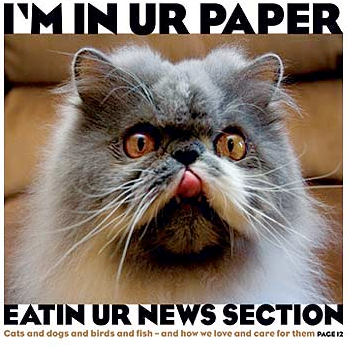 Part two of the #NewsNext series brought to us by the Online News Association/Society of Professional Journalists collaboration featured a lively discussion with Cory Bergman (msnbc.com, breakingnews.com, Next Door Media) and Ben Huh (Cheezburger Networks).
As the owner of the largest humor network in the world, you've probably stumbled upon one of his many sites FAIL Blog, Babies Making Faces, There I Fixed It, Engrish Funny The Daily Wh.at, Totally Looks Like either on purpose or by accident through a social network.
Many people in the online news circuit cover Huh for his ability to turn internet memes into a profitable enterprise (his company employs 50 staff and they're looking for more) and has been consistently topping the Seattle 2.0 startup index for the last year.
Instead of his typical appearance to discuss the secrets behind making something go viral (he says consistency is much more important), this particular room full of people wanted to hear his ideas on keeping journalism strong. Coming out of the Medill School of Journalism at Northwestern in 1999, he never became a reporter, but has been thinking of ways to fix what he sees as a lingering problem in online news.
"The story structure hasn't changed for hundreds of years…how many times have you read a story and think by the third paragraph didn't I already read this before?"
Huh believes that we have lost touch with the golden days of journalism where everything was partisan and there were multiple diverse points of views fighting for what they think is right.
But isn't that what we have now? (More …)