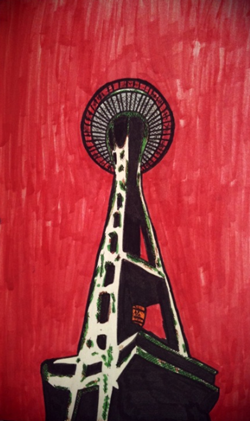 The Pew Research Center's Project for Excellence in Journalism recently released its "State of the News Media 2011" report. It includes "Seattle: A New Media Case Study," an essay Pew asked me to write about Seattle's changing news landscape.
I listed several factors that have created positive energy in Seattle's media landscape. They include lots of experimentation and collaboration, an abundance of hyper-local news sites, and public acceptance of and engagement with emerging media.
I also listed what I regard as unmet or under-met news and information needs. They include voids created by the erosion of traditional media that are not yet being filled by emerging media. Among these are state capital coverage, arts and culture coverage, and public insight or networked journalism. In terms of needs, I also mentioned foundation support, mapping and metrics for assessing information opportunities, and challenges in finding sustainable business models for emerging media.
The goal of the Seattle Journalism Commons is to generate support for endeavors like those below and to cultivate further abundance of quality news and information in our region. This blog is a way to gather ideas and coordinate action around this goal, instructions to post are simple (see the sidebar and FAQ for more details), so please join us!
Common Language Project
The Common Language Project is a nonprofit multimedia journalism organization housed in the University of Washington's Department of Communication. Three talented young Seattle journalists founded it in 2006: Sarah Stuteville, Alex Stonehill and Jessica Partnow.
Crosscut.com
Crosscut.com says it is "a daily guide to local and Northwest news, and a forum where writers and citizens with many points of view can report and discuss local news.… Crosscut is a general-interest news site, with coverage ranging over politics, business, arts and lifestyle, and the world of ideas. It does thoughtful and fresh analysis of the important issues of the day, not routine breaking news."
Data.Seattle.Gov
Launched in February 2010, Data.Seattle.Gov is intended to increase public access to "high value, machine-readable datasets" generated by various departments of Seattle city government. It provides abundant material for citizens and news outlets.
DataSphere Technologies
Based in Bellevue, Wash., DataSphere Technologies is a provider of hyperlocal web technology and sales solutions for media companies.
Grist
"Grist has been dishing out environmental news and commentary with a wry twist since 1999 — which, to be frank, was way before most people cared about such things. Now that green is in every headline and on every store shelf (bamboo hair gel, anyone?), Grist is the one site you can count on to help you make sense of it all.…"
HistoryLink.org
Founded in 1998, HistoryLink calls itself the "free online encyclopedia of Washington State History" and says it is "the first and largest encyclopedia of community history created expressly for the Internet." With more than 5,550 original, sourced essays as of March 2010, it is an incredible public resource. The nonprofit site says it serves an average of 5,000 unique visitors a day, one third of whom are K-12 teachers and students.
Intersect
Seattle-based Intersect says it is "a site where storytellers of all kinds can explore what happens when stories are mapped by time and place and shared with the world." It launched in beta in 2010 and is now fully operational. Its CEO, Peter Rinearson, a Pulitzer Prize-winning journalist and entrepreneur, founded it.
InvestigateWest
InvestigateWest says it "rose from the ashes of the Seattle Post-Intelligencer" but prides itself on not being "limited by those roots." Founded in July 2009, it is a nonprofit organization dedicated to investigative and narrative journalism whose mission statement says, in part:
The old model for supporting and conducting public service journalism has collapsed. Thousands of traditional journalism jobs have simply vanished in this region, and along with them the opportunity for the kind of in-depth, investigative reporting and memorable storytelling that keeps citizens engaged and informed about changes shaping their lives.
Instivate
Instivate is a technology innovator headquartered in Seattle's Central District. It offers technology for online content and advertising, audience measurement and local blogging.
Journalism That Matters Pacific Northwest
Ten initiatives were either spawned or invigorated at the Journalism That Matters Pacific Northwest gathering in January 2009. Slightly more than a year later, nine of those are moving forward.
KING 5
KING 5's website reflects its newscasts and is an audience leader, but it has not yet broken new ground online. That could change because the station hired Mark Briggs as director of digital media in July 2010.
KOMO-TV and Radio
In August 2009 Fisher Communications Inc., parent of KOMO-TV and KOMO Radio, launched "KOMO Communities," a network of 43 hyperlocal neighborhood websites in the Greater Seattle area. Today the network includes 21 sites in the city of Seattle and 34 in communities through much of Western Washington.
KUOW 94.9 FM
The NPR Seattle affiliate is highly regarded for its radio programming, but its website is mostly a guide to that programming.
Living Voters Guide
The Living Voters Guide is noteworthy for how it was funded and how it was developed. It is one activity of a National Science Foundation-funded research project to design, build and test new software systems to better support civic engagement and participation.
Msnbc.com Local
Msnbc.com Local aggregates top story links from a variety of local sites, notably KING5.com.
MyNorthwest.Com
The news on MyNorthwest.com is mostly from the Associated Press. The blogs are from three Bonneville broadcast outlets – News Talk 77.3 KIRO FM, 770 KTTH The Truth talk radio, and 710 ESPN Seattle.
Newsvine
Seattle-based Newsvine was launched in July 2005 and went public in spring 2006.  It was acquired by msnbc.com in October 2007.
Next Door Media
Next Door Media says it presents "news powered by your neighborhood," a network of 10 news sites and a regional portal serving the North Seattle area.
Patch.com
AOL's Patch network of local news sites was operating in 14 Washington State communities roughly along the I-5 corridor from Tacoma to Everett, as of February 2011.
Public Eye Northwest
Under development for more than a year, PEN launched this year as an independent nonprofit dedicated to boosting digital civic literacy, building community news creation capacity, and best practices in voluntary government transparency.
PubliCola
PubliCola, which calls itself "Seattle's News Elixir," was launched in January 2009, it says, "to fill the void created by the collapse of print media.
Puget Sound Business Journal
Puget Sound Business Journal is part of the American City Business Journals, which is in more than 40 markets nationally.
Puget SoundOff
Puget SoundOff is an online space "created by and for youth" to encourage young people to be involved in their communities.
Real Change
Real Change is a self-described activist weekly newspaper that "exists to create opportunity and a voice for low-income people while taking action to end homelessness and poverty."
Reel Grrls
Real Grrls is about "empowering young women from diverse communities to realize their power, talent, and influence through media production."
Sea Beez
Sea Beez is a "hive for hyperlocal ethic news." Dr. Julie Pham, founder and director, says it focuses on building capacity in ethnic media.
Seattle Channel
The Seattle Channel is a government-access channel granted to the City of Seattle under Federal law for the purpose of cablecasting government television programs.
SeattleCrime.com
SeattleCrime.com is exactly what the name implies, an aggregation of news reports from police blotters and various news sources.
Seattle Gay Blog
The blog describes itself as the blog of the Seattle Gay News staff.
Seattlepi.com
Michelle Nicolosi, executive producer of Seattlepi.com, says, "Nearly two years after seattlepi.com became the first major metro daily newspaper to go online-only, I'm happy to report that our readership is stronger than ever. We serve around 4 million readers per month, and our local readership is seeing strong growth.
Seattle PostGlobe
Seattle PostGlobe was launched by former journalists at the Seattle Post-Intelligencer after it stopped printing in March 2009. It says it is "a nonprofit news organization devoted to independent reporting for changing times."
The Seattle Times
The Seattle Times website is a full menu. In addition to news, features and commentary, the site includes a host of staff-produced blogs, photo galleries, videos, interactive databases and regular live chats.
Seattle Transit Blog
How much can a nonprofit blog created by a handful of contributors tell you about transit in Greater Seattle? Would you believe everything?
Seattle Weekly
The Seattle Weekly is a free-distribution alternatively weekly that prides itself on having traced "Seattle's cultural arc" since the days before Microsoft, grunge, double-tall lattes, Amazon.com, soaring downtown condos and fusion cuisine.
Seattlest
Seattlest was launched in January 2005 as a local blog of local happenings. It is part of network of similar sites in major cities, including New York and London.
The Stranger
The Stranger is a free alternative weekly tabloid that considers itself  "Seattle's only newspaper." Founded in 1991, it changed the alternative competitive landscape with a combination of free distribution, edgy writing and extensive entertainment coverage, as well as personal and classified ads.
Sportspress Northwest
Art Thiel and Steve Rudman were franchise players as sports columnists for the Seattle Post-Intelligencer. Now they have teamed up again to co-found one of the area's newest websites, Sportspress Northwest, "where insight is our focus and content is king."
The SunBreak
The SunBreak is an online magazine that bills itself as a "conversation with Seattle."
TechFlash
Tech Flash is an online news site dedicated to covering the technology industry in the Pacific Northwest. It is a product of the Puget Sound Business Journal, but it was the brainchild of two Post-Intelligencer business reporters.
Washington News Council
WNC describes itself as "an independent, nonprofit, statewide organization whose members share a common belief that fair, accurate and balanced news media are vital to our democracy."
West Seattle Blog
Founded in 2005 by the wife and husband team of Tracy Record and Patrick Sand, the West Seattle Blog is easily one of the most watched, talked about and celebrated hyperlocal news sites in the country.
Xconomy
"Xconomy is dedicated to providing business and technology leaders with timely, insightful, close-to-the-scene information about the local personalities, companies, and technological trends that best exemplify today's high-tech economy."