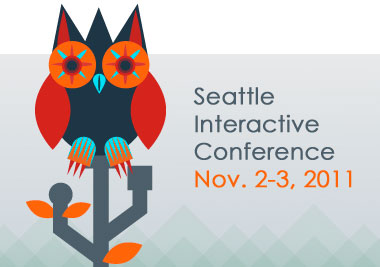 Journalists have always covered the tech industry as a section of the newspaper, but now, due to the personal media explosion, the very existence of the trade is dependent on conversations and decisions that happen at events like this year's Seattle Interactive Conference.
#SIC2011 had many of the same trimmings as the now messianic #SXSWi (South By Southwest Interactive). The obligatory cute cartoon logos, fancy afterparties, overt corporate sponsorship, installation exhibits, free marketing schwag, and custom smartphone app were all part of the $300+ ticket, a tad steep for your average journalist trying to get a bite on how to stay alive.
So how does this deliver in terms of fulfilling the "information needs of a community?"
First let's talk mobile. "Social/Local/Mobile" #SoLoMo was the expression I picked up from Jason Karas of Seattle startup Trover, who put up some interesting stats on rapid mobile adoption:
350 million people are using Facebook through their phones
4 billionTwitter posts come from phones each month (maybe not all through smartphones)
1 billion photos are shared through phones each month (not clear if this is the entire web, or just social media)
1 billion Foursquare checkins have been logged to date
What's more interesting is the motivation behind the SoLoMo phenomenon. The Location Based Marketing Association has research that breaks down the motivations of early adopters:
54% want Discounts/Coupons
33% want to meet friends
32% want to learn about the location
30% want to promote the location
38% want to participate in games/contests/receive badges, e.g. become a "Mayor"
The premise behind Trover is to tap into the human desire to discover and share discoveries, not by means of text reviews and pins on a map (Yelp and Foursquare), but through a rich photographic experience.
My question to Jason was, how can Trover enable journalists and citizens alike to break stories and receive critical information in their communities?