Mozilla is best known for Firefox, the open source darling loved by millions which showed us that a browser is more than just a way to load websites, it's a way to customize your experience of the web itself. Under new direction from Mark Surman, Mozilla is growing new legs to go beyond Firefox. They recently launched #Drumbeat as an effort to do more than just build portals, they are now seeking to change the flesh and bones of the internet itself to make it more open, accessible, and free (see project examples from drumbeat.org).
It was recently announced that Mozilla received a hefty sum of money from the Knight Foundation to bring journalism along for the ride.
The three year Knight-Mozilla News Challenge dubbed #MoJo (for Mozilla + Journalism) is now in full throttle with five news partners on board (BBC, Al-Jazeera, Boston Globe, Zeit Online, and The Guardian) who will host five fellows with full salary to innovate from inside the newsroom. 10 more fellows will come along the way in the next coming years, but until then, the heat is on and challenge submissions are underway.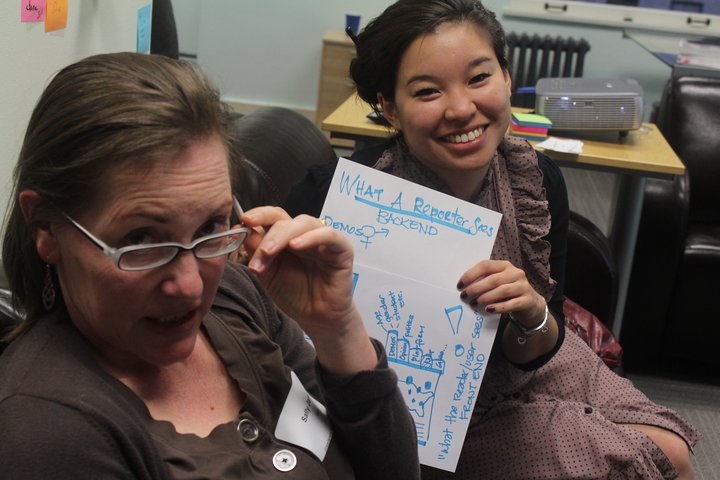 Mozilla asked me to link up with the Seattle chapter of Hacks/Hackers, an organization that shares a similar MoJo hybrid theory of bringing together journalists (hacks) + technologists (hackers) with the goal of changing news for the better. One week later we threw together a sold out Brainstorm 2011 that brought in journalists and technologists throughout the city who came to mash up ideas and enter the challenge.
Besides some awesome sketches and discussions on the limitations of online video (needs to be a living entity so others can collaboratively edit and submit their own footage of the same event from different angles) and the chaos of commenting (if only there were user managed filters and curation techniques that work across different websites), we packed in two presentations from locally based news innovators to bring forth some inspiration.
Matt Perry from the popular environmental news outlet Grist gave us insight into their internal hackathon that resulted in a visual deepwater horizon spill timeline, a historical tornado fatality chart, and other nifties. We all got a nice lesson on how to become a data journalist and were introduced to fabulous tools like Many Eyes and Open Heat Map that'll grow you a cool mustache in just a couple of hours (not exclusive to just men).
Zach Norton from Vectorform showed us the HTML5 based (and thus ipod/pad friendly) timeline reader they made for discovering news from the Associated Press.
Two submissions that transpired from the event are:
1. Reflect
I made sure to personally invite Travis Kriplean, a University of Washington PhD computer science whiz and Lance Bennett protege who worked on the delightfully suave Living Voters Guide, which debuted last election season. As it turns out, he is nurturing another great project, one that's even simpler yet essential. Reflect is a no-brainer extension to online commenting systems that encourages better listening. It does this by allowing readers to restate their interpretation of a comment through annotated bullet points that appear alongside the original statement. The author who posted the comment can then agree or disagree with how it's being interpreted and further clarify their original intent. There are other features and philosophies behind the software which you can learn about on it's homepage, as well as through a presentation Travis gave for the CSCW 2011 conference. You can also read his accompanying academic paper, and of course check out his challenge submission entry.
2. Opinionator
Presented by Marian Liu, entertainment reporter for The Seattle Times and MBA student at the University of Washington. Also in her group were Roy Leban, founder and CTO of Puzzazz, and freelance science reporter Sally James. Here's their submission entry
Another simple, yet useful extension to existing commenting platforms, Opinionator would use Facebook Connect to pull in profile information on commenters and allow a reader to display comments from people who match certain demographic filter categories such as age, political affiliation, gender, etc. You would navigate through a tag cloud (they're suggesting one in 3-D that looks kind of like this) which would be an interesting way to gather a consensus on reader engagement demographics.
Not only would this be an easy way to sift through the cruft and get to opinions that matter to you, but I would have fun comparing the attitudes of Celine Dion fans from those who prefer Cradle of Filth.
Quick Takeaway
If you want to enter the challenge, there's still time to submit your ideas for the killer HTML5 news app, go to http://drumbeat.org/journalism
Also, there's a lot of interesting discussion on the listserv, you can join here, or follow previous discussions on the Google Groups thread.
We also started a great list of resources on news innovation software on this ether pad, which will be transferred soon to the Drumbeat wiki.
Bonus factoid – we learned at the event that Seattle based data hosting company Socrata is hosting all the open data provided by the Feds at http://data.gov
.
[ORIGINAL EVENT POST]
Thursday, May 19
Beer and Pizza at 7 p.m.
News and Innovation Demos at 7:30 p.m.
Napkin Sketchathon at 8 p.m.
Mozilla, the founders of Firefox, have teamed up with the Knight Foundation to help solve an even bigger challenge: reinventing the way we get news.
Hacks/Hackers Seattle invites technologists and journalists to a night of free pizza, beer and brainstorming, as we submit proposals for the Knight-Mozilla News Challenge. Nationwide, 15 winners of the challenge will be selected for a paid fellowship with a global news organization such as The BBC, Al-Jazeera or The Boston Globe.
We are especially looking for hackers and tech-savvy journalists (though civic-minded programmers, bloggers, designers, makers, innovators, and creators of all stripes are welcome!) to brainstorm projects in three areas:
Improving user engagement
Building in HTML5
New uses for video
Mozilla's News Technology Program Manager will be on site to answer questions, so bring your laptop, grab a beer and let's get thinking about the future of news.
Space is very limited, please RSVP here. Location TBA.

Learn more about The Knight-Mozilla News Challenge: https://www.drumbeat.org/journalism/
Follow Hacks/Hackers Seattle on Twitter @hackshackersea or join our Meetup page.
Brainstorm 2011 Program

7 p.m. Eat, drink and connect with your co-conspirators
Brainstorm around Mozilla's first news challenge topic: 'How can we use open video to tell stories on the web in new ways?'

7:30 p.m. – News innovation talks and demos
Your host, Hacks/Hackers Seattle Chapter will talk about the Knight Mozilla News Innovation Challenge. Guest Speaker Nathaniel James will demo an open video tool and present about common obstacles facing journalists using video.
8 p.m. – Napkin sketchathaon (plus more beer)
Sketch out your brainstorm ideas. Enter them in the Knight Mozilla News Innovation Challenge on the spot. We'll have paper and markers on hand.

Location:
TBA