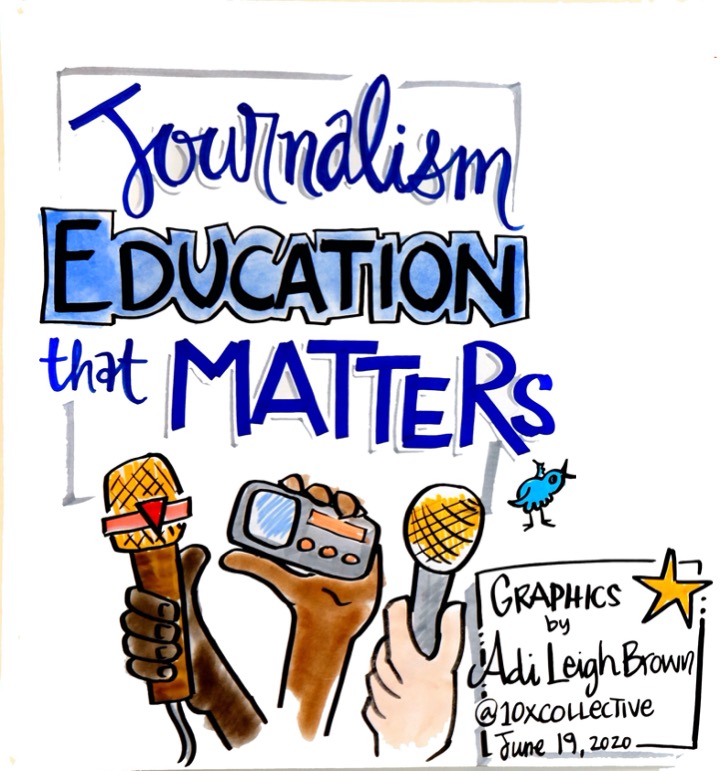 In the midst of upheaval, what's possible to prepare the next generation of journalists?
Over three sessions held on June 19, 20 and July 10, 2020, over 60 journalism students, educators and their allies gathered in virtual conversations inspired by this question. Organized by a team of students, educators and media professionals under the auspices of Journalism that Matters and the new Media Innovation Collaboratory, the Journalism Education that Matters (JETM) conference was an invitation to join small group conversations in an open conference format. There were no predetermined sessions or speakers. The agenda for the conference was set in real-time around the questions that mattered most to participants.
What inspired the convening?
Journalism education, and the field of higher education at large, is facing an existential threat. In March, as social distancing rules became the norm, student reporters at the graduate and undergraduate level were faced with multiple challenges. How can you cover a local community while practicing physical distancing and keeping yourself safe? With the mass cancelation of internships and fellowships, how can you best prepare for a future career in a competitive field? As newsrooms across the country began laying off and furloughing staff, what role could entrepreneurship play in creating a more equitable and inclusive future for media startups and legacy publications?
How we did it
Translating an unconference to a digital space was a unique challenge. For ease of organizing, we used public Google Docs to track the names of sessions proposed by participants. Zoom's breakout rooms created space for small group conversations. In an IRL Open Space conference, participants can move to different groups/topics throughout the duration of the session. Online, the JETM team assigned two 'conductors' connect people to conversations they wanted to participate in.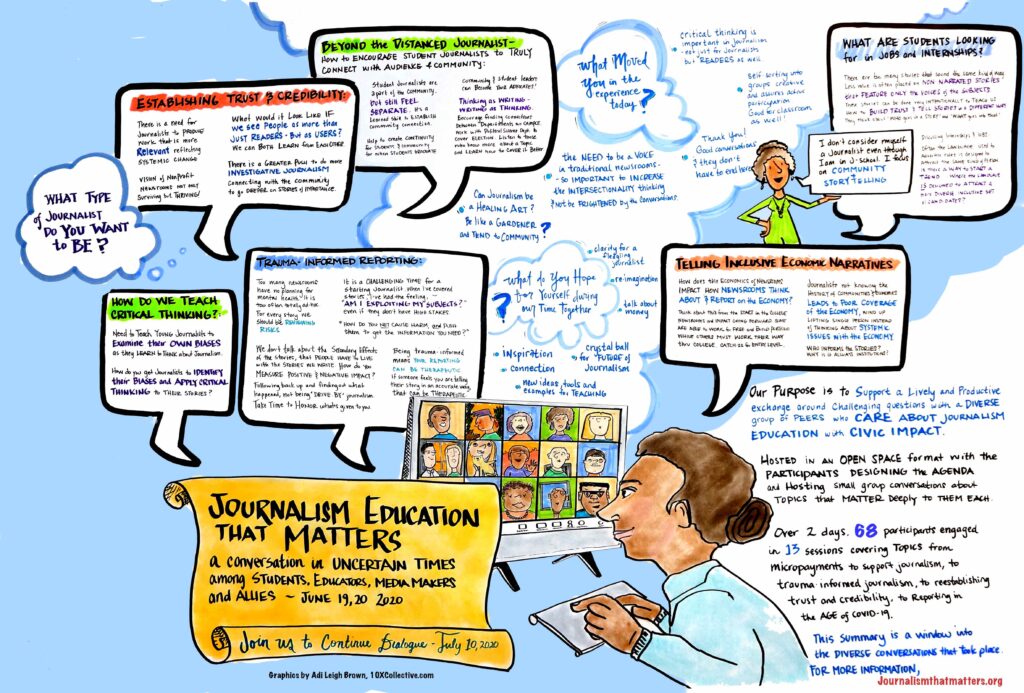 The sessions for the breakout rooms highlighted a mix of pressing challenges facing students and educators (supporting school culture while practicing physical distancing) and topics that, while given extra importance by current events, remain essential topics for the field (navigating objectivity as BIPOC student reporter; trauma informed reporting). Projects discussed during the July 10 session included innovating with media collaboratives and creating an apprenticeship model.
Reflections on the Experience
While overall the conference was successful in bringing together participants in conversation, we would change a few elements for future gatherings. We designed the sessions with a three-week break between the first two days and the final day to encourage asynchronous collaboration around some of the topics that arose during the first couple days. That time ended up decreasing some of the momentum of the gatherings. Next time, we will prime the "ideas into action" session — some form of Proaction Café — and hold it on a 3rd day in a row.
Overall, we're proud to have created a space for difficult conversations. There's clear need amongst students and educators for space to process and collaborate around what all stakeholders need and want from distance learning. Students and educators adapted quickly to the lockdowns earlier in the spring and there's an important opportunity as we approach the start of the school year to facilitate conversation and dialogue.