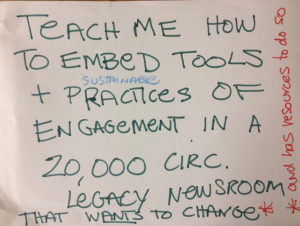 How might a 20,000-circulation daily newspaper find tools and adopt practices for better engaging with existing and new audiences?  At Elevate Engagement ,  Journalism That Matters board member (and Reynolds Journalism Institute fellow) Bill Densmore discussed the topic with nine fellow conference-goers over an hour — in groups of three each.  You can listen to the discussion from here (or just click on the carat to the left of the bar below if it is showing).
Do you have specific ideas for improving the way newsrooms connect with their audiences, listeners, viewers and citizens? What is the best way to move beyond the role of gatekeeper and into a role as facilitator, collaborator and information valet?  Post your comments below!
BONUS LINK: What do we mean by "engagement"?  |  Another view of engagement (Peggy Holman-2015)
Overall conference contents/outcomes
Our commentators (left to right in photos below):
PANEL ONE:
Alex Powers, student, Univ. of Oregon School of Journalism & Communication; ex reporter Klamath Falls [Ore.] Herald & News
Emily Olson, student, Univ. of Oregon School of Journalism & Communication, intern, Pendleton [Ore.] East Oregonian
Christine Whitney-Sanchez, Innovation Parters International, Phoenix, Ariz.
PANEL TWO:
Burgess Brown, community manager, the Listening Post Collective, Internews, The New School, New York City
Ashley Alvarado, manager, public engagemente, KPCC/Southern California Public Radio, Pasadena, Calif.
Todd Milbourn, instructor, journalism and businesss, Univ. of Oregon; former newspaper and TV reporter, Eugene, Ore.
PANEL THREE:
Suzette Riley, general manager, C&C Marketing/PR agency in Portland, Ore., and Boston; working on environmental and social issues
Tova Averbuch, organizational-development consultant, Holon, Israel
Joy Mayer, consultant, strategics and trainer around news-industry engagement, Sarasota, Fla.