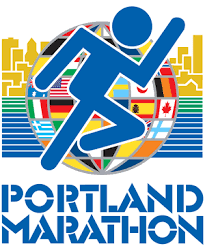 The run will start down at SW 4th/ Salmon at 7 AM. They run north to Couch and then to Naito.  So the westbound traffic across the Burnside and Morrison bridges are held until the full event gets moving down Couch.  These points will reopen by 7:45.  The Steel Bridge will be unaffected during the event.
The runners  come back down Couch to Naito at the end of the event.  So, either:
Access the area south  of Couch via the Burnside/Morrison bridges after the event start and park south of the location in any of the downtown parking garages/lots that are not on Couch, Naito, or in the formation area.
Access the area north of the route via the Steel Bridge and park in one of the Old Town/Pearl lots north of the location and walk across the event route on Couch.  The Smart Park across the street on NW Davis will be available.